Real Time Ultrasound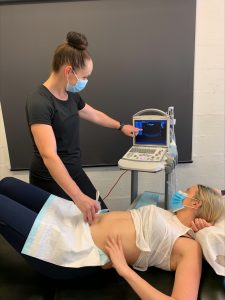 At Beaumaris Physio & Health we also have a Real Time Ultrasound.  This Ultrasound can be used externally over the lower abdomen to assess deep abdominal and Pelvic Floor Muscles.  This allows for another method of non-invasive Pelvic Floor Examination and is also useful in assisting with Separated Abdominal (DRAM) management.
Real Time Ultrasound (RTUS) is a great tool that can be used functionally to assess pelvic floor function on one's back, in standing & even in running & jumping.  It is 2-dimensional meaning that it can assess lift of the pelvic floor on the bladder neck, but not the squeeze or occlusion component of a Pelvic Floor Contraction.  It can also not assess prolapse or the health of the vaginal tissue.  However, it is less invasive and does give good visual feedback for the client and therapist.  To image effectively, one does need to ingest 1-2 glasses water in the bladder 1 hour prior to the appointment time.  You can discuss with your therapist the use of RTUS as part of your assessment.